Andy Leonard – Out with a Bang!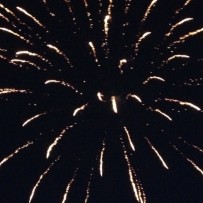 As many of you know the then chair of BECTU's Western Freelance Branch and Lighting Camerman, Andy Leonard sadly died in the summer of 2012. Last Friday 19th July Andy Leonard's sister and his family organized the most wonderful celebration of Andy's life, timed for what would have been his 50th birthday.
Many of his family and friends gathered, ate, drank and exchanged stories. An ad hoc band, (called "Ad Hoc")  played, there was fantastic cake and the highlight was a fireworks display at 10pm – including  huge 12 rockets packed with Andy's ashes. It was indeed "out with a bang" which, launched from Ashton Court would have been visible all over Bristol. So if you saw fireworks around that time – that was Andy Leonard.
I hope you felt the love my friend.