SOLD Sound Devices 442 mixer for sale £1000 plus vat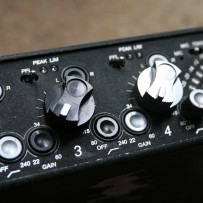 FOR SALE Sound Devices 442 mixer. Excellent condition, just some scraped paint on the underside due to me stupidly putting a clipboard next to it in my mixer bag. £1000 + VAT (20%) inc free shipping within mainland UK. You can also collect from Bristol. Instruction manual included.
This is a fantastic mixer with a really good selection of inputs and outputs which makes it very flexible for many types of location use. It is in full working order and was my everyday mixer until a few weeks ago. 
Developed with input from the industry's top audio engineers, Sound Devices 442 encompasses the audio performance, feature set, and mechanical construction demanded by those who rely on audio gear for their livelihood. The 442 contains four microphone preamplifiers that re-define portable audio performance. With its comprehensive inputs and extensive outputs, including direct outputs per channel, the 442 is at home in small run-and-gun applications as well as large, multiple-input productions.
The 442 incorporates a complete feature-set into a compact, functional design. All controls are accessible on its three main surfaces; no hidden controls. The high-efficiency power circuitry runs the mixer from either four internal AA batteries or external 5–18 VDC.
The 442 like all Sound Devices professional audio products, are designed to withstand the physical and environmental extremes of field production. Its compact mechanic construction strikes the perfect balance between access to all functions, uncluttered design, and durability.
Lundahl transformer-balanced mic or line-level inputs on XLR connectors

Transformer-balanced line/tape/mic level output on XLR connectors

Continuously adjustable input trim

Variable high-pass filter

Continuously variable pan control

Phantom (48-volt or 15-volt) or "T" microphone powering selected per channel

Solo (PFL) channel monitoring in headphones

Peak limiters per channel

Direct outputs on TA3 locking connectors

Transformer-balanced line/tape/mic level output on Hirose connector

Balanced line or tape level output on TA3 locking connectors

Un-balanced TRS-stereo tape level output on 1/8-inch connector

Un-balanced TS-mono mic level output on 1/8-inch connector

Sunlight-viewable LED meters with proprietary software-selected ballistics

On-board MS stereo matrix, channels 1 and 2

Two independent monitor return inputs for monitoring two-camera productions

Push pots for setup features keep front panel clutter-free

Compact 6061 aluminum chassis

Powered by four AA batteries or external 5 – 18 VDC