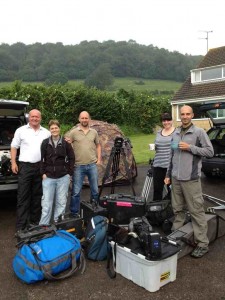 Documentary Features
Set the Piano Stool on Fire with director Mark Kidel, Rough Aunties, Hold me Tight, Let Me Go, Sisters in Law, The Day I Will Never Forget, Runaway & Gaea Girls with director Kim Longinotto, The Doctor Who Hears Voices and Comfortably Numb with director Leo Regan (docu-drama)
Documentaries and Factual Series
Springwatch, Grand Designs, Sound of the Cinema, They Sold a Million – Ricky Valance, The Secret Millionaire, Doctor Who Confidential, Park Life, Paranormal 5, Sir Peter Scott – A Life in Nature, Johnny Kingdom's Exmoor, Skint, Dubai Dreams, Someone to Watch Over me, Diarmuids Big Adventure, Sengegal Special, Teen Angels, A Garden for all Seasons, Bankrupt – Ray Gosling, Metroland, Love in the 21st Century, Blood on the Carpet, Back to the Floor, Nicks Quest – Polar Bears, Glastonbury Man, Thanks a Bunch Lord Ormrod, Comic Relief, Children in Need.
Magazines & Light Entertainment
The One Show, Countryfile, Gardeners World, Food and Drink, Flog It, Bargain Hunt, Dickenson's Real Deal,  Pride of Britain, Any Dream Will Do,  Are We Being Served, Inside Out, Secret Underground, Foragers Field Guide, Marking Time, Watchdog, Real Story, Sky at Night, Gardener of the Year, 999 Lifesavers, Club Nation, Vets in Practice, Watch Out, Really Wild Show, Close Up West, Here and Now, Home Front, DIY SOS, Blue Peter, Nature Detectives, Tracks.
Corporates
Numerous corporates for clients including Jewson, Vodaphone, Castrol, Orange, South West Great Western, Mencap, British Aerospace, Nationwide, The Prudential, Lloyds TSB, Scottish Widows and PG Tips.
Commercials
Macmillian, Park Hampers, Play Rugby, Wessex Water, Wales – The Big Country "Stress", Bovis Homes, Central Capital, ScrewFix Direct.
Other
Skins – Platforms (a series of short dramas for DVD and online content), Dawn Chorus (installation video project), Pasture Promise TV – films for the internet .