I've been using my 633 for just over a week and I have to say I am loving it! All the things I thought might be a problem seem not to be so far and I'm slowly sorting out the settings and work flow that suit me.
I had wondered if using my Audio 2040 radio mics would be a pain with it as they are mic level rather than line (and 3 of the mixers inputs are line level only) it's been fine so far. I've had leads made up that feed from the headphone out of the 204o's rather than the mic level output and this works fine. I have heard some people complain that the ISOs are low level if you do this – but you can increase the channel gain in the menu to suit the 2040's so it's not actually a problem at all.
One thing I really like over the the 664 firmware I am running at the moment  is that when you switch monitoring to the confidence return and power down your mixer – when you power back up it's still on the confidence return. This was a little trick I always used to use on my SQN when I unplugged from the camera and powered down. I'd always leave it switched to RTN so that I plugged back in when I switched back on for sure. It's something I really missed when I switched to sound devices – so I'm glad it has been introduced.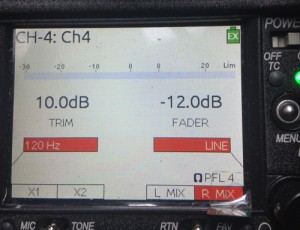 The main advantage of the 633 is the small size and weight of course, so space had had to be saved and some functions that are controlled with switched on the 664 have become menu driven on the smaller machine. Things I miss are the pan controls on channels 4-6 which are not menu driven – quick to change but I wish there was a permanent visual reference on the screen somewhere to show how they are set, as it's the kind of thing that can catch you out when moving between set ups. Likewise, but not quite so annoying is the menu driven bass cuts on all the inputs, I'd like to see at a glance how those are set without having to push a switch. At least there are bass cuts on every channel – unlike the smaller SQN machines where this function was left off two of the channels completely.
My only other minor gripe at the moment is that I would like a clearer indication of the battery condition. The battery indicator does not "empty" like the 664, it just changes colour which is not – to me – as obvious. The function though of automatically switching to another power source when available is fantastic and seemless.
I'm finding it a great machine which is going to be perfectly adequate for the majority of my documentary work – at much less weight that the 644. Now I just need to get my bag organised the way I want it – I just can't decide how I want it to be!
There is also some seriously good news for Sound Devices users. Sound Devices are opening a service centre in Berlin – no more dealing with Shure UK and no more expensive carriage back to the US for servicing! Amazing news.